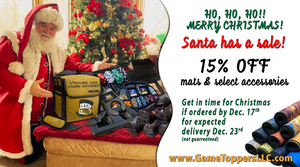 Late Pledge from our most recent Kickstarter and save on Package Deals, Mat Bundles, and accessory bundles!
The Late Pledge store is a pre-orders store from our recent Kickstarter that allows you to enjoy over 40 Stretch Goals that were unlocked like our new 10 Mat styles, Designer Art Series Mycroft Topper, The Young Sherlock Children's/Moveable coffee Table, The Bakerstreet Irregulars Mat caddy storage system and many more extras. Most items will be delivered Feb 2024 because we unlocked early fulfillment, but a few of the items will deliver in April of 2024. We have many items available now for Christmas delivery, but the biggest savings and new products are on the Late Pledge Store. Clink button Below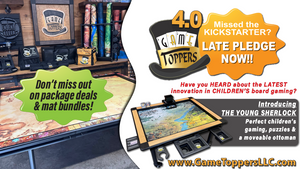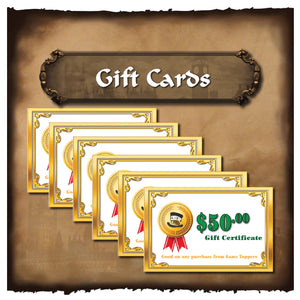 Give the gift of a Game Topper
Don't know what to get the special gamer in your life? A Game Topper gift certificate is the perfect way to give the most thoughtful gaming gift that upgrades every game they play. Game mats, to game accessories to the ultimate dream of their very own game table. .